Search Box not loaded properly. Please click here to retry.
Great Choice
Compare flights from all airlines

730,000 hotels worldwide
Great Value
Low rates everyday

No booking fees for package bookings
Advice you can Trust
24/7 customer service

Unbiased TripAdvisor reviews
Simple & Convenient
Instant confirmation

Multiple payment options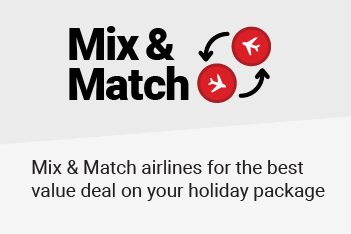 Savings Terms and Conditions
*Based on the average saving for Webjet package bookings made between 1 October 2019 and 31 March 2020. Savings represent the difference between the displayed cost of the package as payable upon purchase, compared to the cost of the same airfare and the hotel rate before promotional discounts are applied, when the flight and hotel are purchased in two separate bookings at Webjet. Savings will vary based on origin/destination, length of trip, number of travellers, stay dates and selected travel supplier(s).
All prices on this page are subject to change without notice. Whilst Webjet makes every effort to provide you with accurate and up-to-date information, in the event a product is listed at an incorrect price, whether due to typographical, photographic, or otherwise, Webjet may refuse or cancel any orders placed for a product listed at the incorrect price. 
NAB Rewards error
An error occured while retrieving your NAB Rewards details. We recommend logging into the NAB Rewards site and trying again